26 October 2017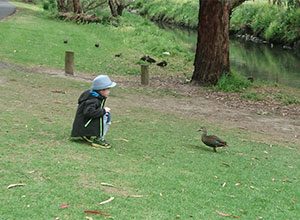 In celebration of National Bird Week 2017 (23-29 October), three guided bird walks were held in Wantirna, Mulgrave and Dandenong North on the weekend of 21-22 October.
At each walk, experts regaled participants young and old with fascinating facts about the birds that live among us and how we can attract birdlife to our own backyards.
Participants also learnt how to take part as citizen scientists in the Aussie Backyard Bird Count which runs throughout National Bird Week.
These events were held through Living Links as part of the $1 million 'Transforming the Dandenong Creek corridor into a world-class urban Living Link' project, funded through the Victorian Government's statewide Our Catchments, Our Communities four year initiative.
Special thanks to our partners – City of Maroondah, City of Knox, City of Monash, City of Greater Dandenong, First Friends of Dandenong Creek and Birdlife Australia.
The 2017 Aussie Backyard Bird Count counted over 2 million birds across Australia. For more information, including how you can get involved next, year, visit the Aussie Backyard Bird Count website.