11 March 2019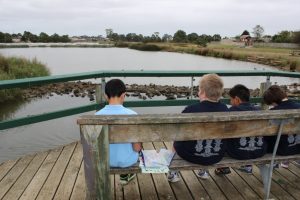 **Applications have now closed for the 2019 Living Links Ambassador Schools Program – winner will be announced soon**
Starting in 2019, Living Links will support one primary or secondary school per year located within the Dandenong Creek catchment to undertake a project relating to the Living Links program vision of "Creating a web of green spaces where people and nature connect".
The objectives of the Living Links Ambassador School Program are:
Create long-lasting connections of students to the importance of urban environments
Allow students to explore local environmental issues affecting their school and local community
Promoting innovative learning that fosters environmental stewardship
Promoting an awareness of the Living Links Program
Examples of projects may include:
Revegetation and habitat enhancement
Urban Ecology
Litter
Urban Greening
Connecting people to nature
Water Quality
Community engagement
Recreation
Waterway health
What does the Ambassador School receive?
A $2,000 grant to develop and implement their project including materials and equipment that may be needed
Mentor support from the Living Links Committee
Sponsorship to attend the 2019 Kids Teaching Kids Conference
A Stormwater Incursion from Swinburne University
A Living Links Ambassador Schools sign to display
Timeline
Date
Action
4 February 2019
Applications Open
8 March 2019
Applications for Living Links Ambassador Schools close
18 March 2019
Project Working Group meet to assess applications
April 2019
Recommendation for successful school presented to Living Links Committee
23 April 2019
Successful Ambassador School commences project in Term 2
22-23 October 2019
Melbourne Water Kids Teaching Kids Conference
November 2019
School Presents to Living Links Committee

Awarding of Living Links Ambassador School Program Sign
Eligibility
The Living Links Ambassador Schools program is open to primary or secondary schools within the Dandenong Creek catchment. Please see our map to check whether you are within the catchment.
Application form
Please download the application form below and submit via email to sarah.maclagan@ppwcma.vic.gov.au.
LL Ambassador Schools – Expression of Interest Form
Further information
For further information please contact the Living Links Coordinator, Sarah Maclagan, at sarah.maclagan@ppwcma.vic.gov.au or phone 8781 7943.