1 April 2018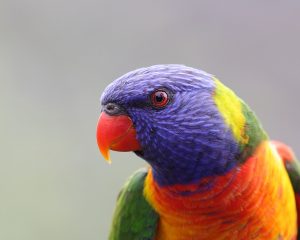 Thanks again to everyone who participated in the Aussie Backyard Bird Count during 23-29 October (National Bird Week) last year. Birdlife Australia has kindly provided us with a special report describing the results specifically for the Living Links region (i.e. the Dandenong Creek catchment). Here is a summary of the results:
1,096 observers participated in the bird count, submitting 1,636 checklists
Submitted checklists ranged from between 1 and 44 per registered user (average of 2.4 per registered user)
The combined duration that observers surveyed over was 497 hours and 55 minutes
The number of birds recorded ranged from 1 to 2111 per registered user, with an average of 64 birds recorded per registered user
A total of 43,574 individual birds were observed and recorded during the week
195 bird species were recorded
89 schools (kindergarten to high school) participated in the Aussie Backyard Bird Count within Victoria
So what was the most common bird species recorded? You guessed it – Rainbow Lorikeet, with a whopping count of 4407! The graph below shows the top ten bird species most commonly recorded during the 2017 survey: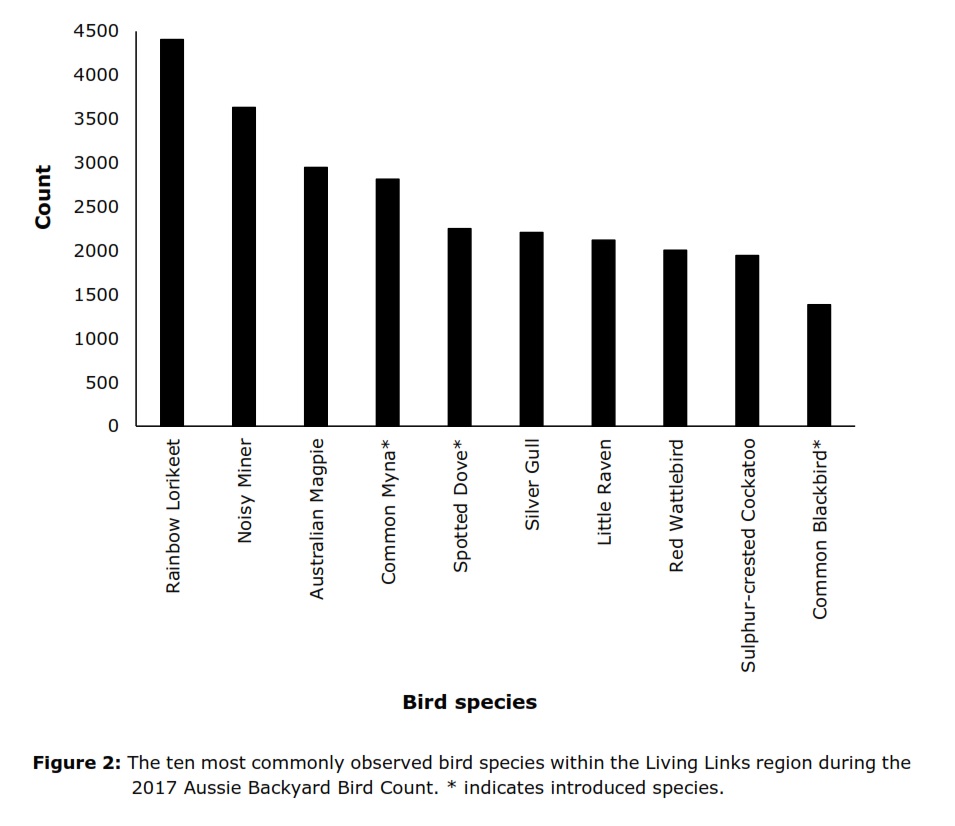 What about the least common species recorded in the Living Links region? The following 21 species were represented by only single observation each:
Australian Owlet-nightjar
Black-fronted Dotterel
Brown Quail
Crested Shrike-tit
Curlew Sandpiper (Cr End)
Grey Goshawk (Vul)
Intermediate Egret (End)
Jacky Winter
Nankeen Night-heron (NT)
Noisy Friarbird
Pink Robin
Red-capped Robin
Red-whiskered Bulbul*
Royal Spoonbill (NT)
Satin Flycatcher
Southern Whiteface
Striated Fieldwren
Whistling Kite
White-bellied Cuckoo-shrike
White-winged Chough
Yellow-billed Spoonbill
Therefore it's particularly interesting if you see any of these species – please make sure you report them!
The 2018 Aussie Backyard Bird Count will be held 22-28 October. But in the meantime, you can continue to make a valuable contribution to citizen science by participating in each seasonal Birds in Backyards survey (the Autumn survey is currently underway), or contribute any day of the year via Birdlife Australia's Birdata portal.
Photo credit: Rainbow Lorikeet, Andrew Silcocks