1 March 2019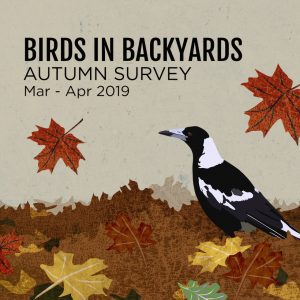 Map Unavailable
Date/Time
Date(s) - 1 March 2019 - 30 April 2019
12:00 am
The leaves turn brown, the sun is low. Get out and survey – GO GO GO
Its time to turn our focus to the Birds in Backyards Autumn surveys. The weather should soon be cooling down a bit, it is a wonderful time of the year to be out in the garden and watching birds. A lot of birds are migrating to their winter grounds during Autumn. Getting started is easy. If you don't have a Birdata account, sign up for one today. Then read the instructions or watch the video.
BirdLife Australia is thrilled to announce that the full Birds in Backyards surveys are now available on the Birdata app – you only have to complete your garden info once so don't forget to tell us about what your garden is like. Try it and see just how much easier it is!
Your Chance to Win!
The seasonal prize this quarter is for the most number of sites visited. Most people do their Birds in Backyards surveys in their own garden – but did you know you can complete a survey anywhere you find birds and people? It could be at your house, your neighbours place, the local park or patch of bush. Just be sure to fill in the garden/habitat info wherever you are completing a new site. Lets see who can send do surveys in the most locations (just make sure you have the owner's OK first) from a single surveyor/Birdata account holder
Prize packs each survey include a set of delightfully backyard-themed BirdLife Australia bird pins, a Birds in Backyard fridge magnet, and a BirdLife Australia bird ID booklet.
Don't forget our major prize for the year – if you complete at least one survey per season (that's Summer 2018/19, Autumn 2019, Winter 2019 & Spring 2019) you will go into the draw to win a fabulous custom flock by the talented crew at Eggpicnic (RRP AUD$275).
Summer Prize Winners
Watch this space – BirdLife are doing some final analysis from the summer surveys and will share those with you soon.
A huge congratulations to our three survey winners this quarter:
Yoana S, QLD with 50 surveys
Lee S, VIC with 33 surveys
Barbara W, QLD with 29 surveys