25 July 2018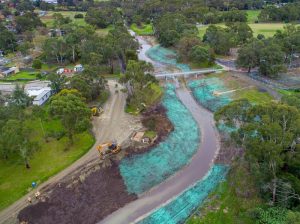 Date/Time
Date(s) - 25 July 2018
9:00 am - 1:00 pm
Location
HE Parker Reserve
To mark the completion of the Daylighting Dandenong Creek Project Melbourne Water has planned a Community Tree Planting Day near the footbridge at H.E. Parker Reserve, Heathmont.
The Community Tree Planting Day aims to plant 3800 native plants. If you would like to participate in the planting please bring appropriate footwear and clothing and meet near the footbridge.
Complimentary coffee and a BBQ will be provided for participants. The Daylighting Dandenong Creek Project has removed 830 metres of underground pipe and constructed an open waterway from the Ringwood-Belgrave railway line near the Bayswater Secondary College to H.E. Parker Reserve.
This project is part of the Enhancing Our Dandenong Creek Program and will significantly  enhance the amenity and biological diversity of the area.
To find out more about the Daylighting Dandenong Creek Project please visit: yoursay.melbournewater.com.au/enhancing-our-dandenong-creek/daylighting-dandenong-creek