27 August 2019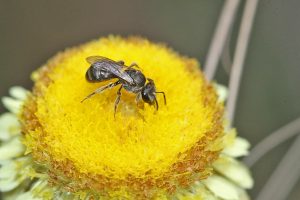 Date/Time
Date(s) - 27 August 2019
1:30 pm - 3:30 pm
Location
Box Hill Institute, Centre for Biosecurity Excellence
Australia has around 1,700 species of native bees, with more species being discovered each year. Native bees are important pollinators of Australia's wildflowers. They also make an important contribution to Australian agriculture, through crop pollination. Populations of native bees can be threatened by land clearing and pesticide use. At this special forum, learn more about native bees and other pollinators, their habitat requirements and how to improve the biodiversity of your property to increase native bee populations and benefit from the services they provide as specialised crop pollinators.
Speakers:
Kit Prendergast
PhD candidate, Curtin University WA (via video)
Native bees and protecting their habitat
Dr Katja Hogendoorn
Research Associate, University of Adelaide
Native bees and crop pollination (canola, fruits and vegetable production)
Karen Thomas
Port Phillip & Westernport CMA
Hover flies and other important invertebrates
Free event. Light catering provided. Bookings required.
For more information contact Karen Thomas M: 0427 480 170 E: karen.thomas@ppwcma.vic.gov.au
Photo: Native bee on native Everlasting Daisy flower, Ian Moodie.