22 March 2019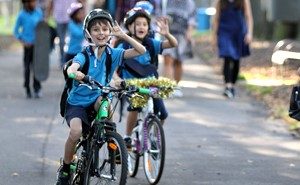 Map Unavailable
Date/Time
Date(s) - 22 March 2019
12:00 am
More than 700 Australian schools will be transported back to the '70s, as this year's National Ride2School Day sees thousands of children riding their bikes to school in a salute to more active times gone by.
The annual Bicycle Network event is Australia's biggest celebration of two-wheeled travel to and from school and on Friday 22 March celebrates its 10th anniversary with a 'back to the 70s' theme.
Register your school and get riding!
While there is only one week until Bicycle Network's National Ride2School Day, it's not too late to register and get involved.
Register your school now and you will receive a special pack from Bicycle Network with information and promotional material to get students excited about the day and help them get riding.
Whether students are new to riding or already get to school on two wheels, National Ride2School Day will be a day of fun and colour.
It can also help students develop teamwork and leadership, with those who ride every day able to help their friends who might ride for the first time.
More information and register here