25 September 2017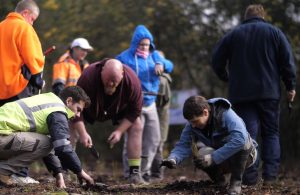 Carving its way through a densely urbanised landscape, the Dandenong Creek corridor provides a vital haven and biolink for native flora and fauna, as well as for the region's human inhabitants. However, there are gaps where further work is needed to strengthen environmentally significant sections of natural bushland.
Thanks to $1 million allocated through the Victorian Government's Our Catchments, Our Communities initiative, a range of Living Links partners (Port Phillip & Westernport CMA, 5 Councils, Parks Victoria and others) are banding together to transform the Dandenong Creek corridor into a world-class urban 'Living Link'.
Being delivered through the Living Links program, the project will carry out environmental works at 38 priority sites, as well as increasing public use and appreciation of the corridor.
One of the first planting days was held in Tirhatuan Park in Dandenong North in August and in this short video, the City of Greater Dandenong, PPWCMA and the community share their thoughts.