3 July 2020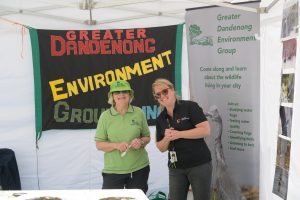 With the recent refresh of the Living Links Coordination Committee, we're delighted to welcome a new member, Judith Sise. Judith will be officially representing the Field Naturalists Club of Victoria, but this is only one of the many environmental groups and activities she's involved with. Below, we asked her some questions to get to know her better:
Which group/organisation(s) are you representing?
I am a Committee Member of the Field Naturalist Club of Victorian (FNCV), which has nine Special Interest Groups across Victoria. I am also active in a number of environmental groups in the Dandenong and Kingston areas, including as President of Friends of Braeside Park and Secretary of Greater Dandenong Environment Group. I'm also on the Greater Dandenong Council Sustainability and Climate Change Advisory Committee. I volunteer with Parks Victoria, in two indigenous nurseries and I do Waterwatch at Dandenong Creek and Braeside wetlands.

For the past 25 years I've been working an environmental science educator. I currently work as a teacher at Lyndale Greens Primary School in Dandenong North, where I've led a range of environmental initiatives to help the kids learn about and connect to nature.
What are your main roles/activities that are helping to protect/enhance nature across Melbourne's southeast?
Personally, I have done long-term recording of fauna and flora, lead Nocturnal and Spring Walks, and grown and planted indigenous flora, but I feel my role in all groups is to engage the community with their local natural world.

There are two well-known sayings that sum it up. David Attenborough said, 'No one will protect what they don't care about; and no one will care about what they have never experienced." The Lorax said, "Unless someone like you cares a whole awful lot, Nothing is going to get better. It's not."
What do you most enjoy about this work? What is most challenging?
My fascination with nature is lifelong, and I enjoy sharing this. It is challenging to live in this time of unprecedented population growth.  Australians and their governments view their country as good for human play, exercise, building, burning, mining or dumping.
Why do you like spending time in nature?
What else is life?
Do you have a special place to connect with nature nearby?
Braeside Park is two minutes from my house. It has been my oasis for twenty-five years, and is as threatened as any wetlands in the Galilee Basin.