9 May 2018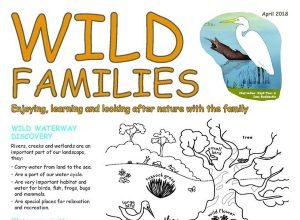 By special request, our friends at the Victorian National Park Association (VNPA) have developed a Wild Families activity sheet featuring the Dandenong Creek! It includes a wild waterway discovery activity, ideas for family-friendly outdoor adventures, and information on how to look after rivers and creeks. You can download it (plus other Wild Families activity sheets) here.
The VNPA's Wild Families program is about helping families of any size, shape and structure to enjoy, discover, learn about and look after nature together. The activity sheets are offered as a free resource especially targeted at families with children aged up to 12 years old.
Why Wild Families?
Your family can get a lot from spending time outdoors in nature, including:
Better physical health through exercise and opportunities to get dirty.
Stronger relationships by having positive experiences together.
Learning first-hand about nature and the great outdoors.
Having fun together!
The Dandenong Creek Wild Families activity sheet was developed by the VNPA with assistance from Living Links and Melbourne Water. It was partly funded by the Victorian Government through the $1M Transforming the Dandenong Creek into a world-class urban Living Link project.