1 May 2020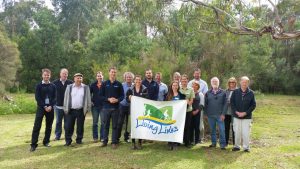 Membership of the Living Links Coordination Committee is renewed every three years, as per our Charter. The current Committee term is due to expire 30 June 2020. We are now seeking nominations for the new Committee, for the period Jul 2020 – Jun 2023. Current members are encouraged to re-apply, but new nominations are also welcome.
The Living Links Committee aims to comprise a mix of relevant skills from the local community and major Living Links stakeholders. This includes representatives from public land managers and regional-level community/interest groups (e.g. those with interests in outdoor recreation, environment and natural resource management). The PPWCMA Board will make the final decision regarding the new appointments.
Further information about Living Links governance, Committee responsibilities, and a list of current members can be found here.
To nominate for a position on the new Living Links Coordination Committee, please download the form below and return to the email address provided. The latest Living Links Coordination Committee Charter is also provided. Please submit your nomination by Friday 22 May.
Please direct any questions to the Living Links Coordinator, Sarah Maclagan, at sarah.maclagan@ppwcma.vic.gov.au or 8781 7900.