29 August 2019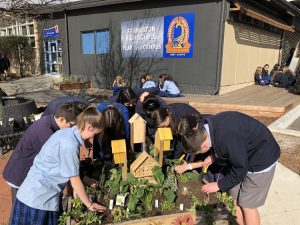 Students from Frankston High School have created a beautiful habitat garden to help beneficial insects. It's called an Arthro-POD, and it was created as part of a Natured Kids project to identify the important role insects such as bees, beetles, butterflies, moths, flies, wasps and ants play in our world. It's also designed to increase the students' knowledge of these handy helpers and the ecosystem services they provide.
Natured Kids is a Junior Landcare group run by Frankston freelance teacher Narelle Debenham, who managed the Arthro-POD project with the support of the school's sustainability teacher, Brendan McKinnon, as well as other organisations including Frankston City Council, Port Phillip & Westernport CMA, and Flora Victoria.
Read the full story here.