30 January 2020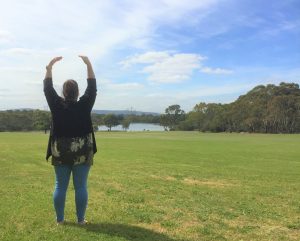 Our 'Wayapa in the Park' summer series has now come to a close, having run every Sunday throughout January. The sessions provided a free introduction to Wayapa: an Aboriginal wellness and connection practice based on the ancient knowledge of deep connection to the earth and spirit.
Using Earth mindfulness, visualisation and movement, Wayapa allows participants to develop a deeper understanding through Aboriginal eyes of how we all belong to the earth and how caring for the planet is fundamental to our wellbeing and environmental sustainability.
The sessions were facilitated by accredited Wayapa practitioner and proud Bidjara woman Karan Kent of Yimba Yumba Earth Mindfulness, Promotion and Practice. They were held at Tirhatuan Park in Dandenong North and Jells Park in Wheeler's Hill.
Participants reported having thoroughly enjoyed the experience, with many returning for multiple sessions. One participant said:
"[It] was lovely to connect with the earth through movement and story. I loved how each movement had symbolism behind it and how it is connected to Indigenous ways of life and respect for land, animals, water and children. I felt joy and resonance in participating and felt more relaxed and grounded afterwards."
Another shared:
"I enjoyed looking at the world through a different culture's eye. I feel it broadened my outlook and it was very peaceful."
If you missed the January sessions but would like to try Wayapa, Karan will be at the Discover Dandenong Creek Festival on 2nd April. You can also follow her on Facebook.
The 'Wayapa in the Park' series was supported by the Victorian Government, Parks Victoria, City of Greater Dandenong and City of Monash.