15 April 2020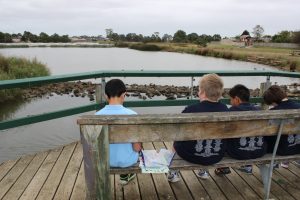 Congratulations to River Gum Primary School in Hampton Park, which has been selected as our 2020 Living Links Ambassador School!
With help from our program, students will transform a disused area of the schoolyard into a "mini nature reserve" where local flora and fauna can thrive.
Students will have control (with teacher oversight) of the layout of the nature reserve, the choice of suitable native plants, and the inclusion of fauna-attracting features such as ponds, nesting boxes for native bees and birdlife. They will prepare and plant the area using seeds and forestry tubes, and study the needs of plants in order to control invasive weeds while encouraging desirable plants.
With teacher oversight, students will also take responsibility for installing features (e.g. a rainwater tank, a solar-powered water pump) that will ensure the long-term sustainability of the project.
This project will give the students a real-world project to practice core curriculum skills such as reading, measuring and researching. It will also make a wonderful contribution to the Living Links' vision of "creating a web of green spaces where people and nature connect".
The program will culminate with the students attending and presenting at the Melbourne Water Kids Teaching Kids conference, which has been moved to December.
Although the children are currently being schooled from home, we hope they can use this time to start researching so they can be ready to hit the ground running once they return to school.
We look forward to seeing how this fantastic project unfolds over the year ahead!
Click here to find out more about the Living Links Ambassador School Program.