17 July 2018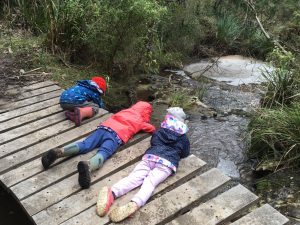 It's easy to think of fun, active things to do with children when the sun is shining. It can be harder in winter. Here are some winter activities to get you going when it's cold or wet:
Put on coats, hats and gloves and head outside. Show your child what the beach looks like in wild weather, or visit parks and gardens when the plants are all wet and glossy.
Take your child to see how the flow of rivers, creeks and streams changes after rain. Throw in some leaf 'boats' and see how fast they travel!
When it's wet, dress up in gumboots and raincoats. Look for some big puddles to jump in. An umbrella can be fun to take along too. Your child might have fun opening and closing it a few times.
Gather leaves, sticks, shells and stones from outside. You can take them inside and use them for sorting, painting or building.
On a windy day, you can try flying kites, chasing leaves – or helping them 'fly' – and trying to find places to hide from the wind outside.
On a not-so windy day, head out to do a Birds in Backyards Winter Survey – you'll learn about birds and contribute to science.
Collect fallen sticks and branches and have a backyard bonfire. Enjoy the heat of the fire against the chilly winter air.
Since it gets dark so early, you could head to a local park with a torch and try spotlighting for nocturnal wildlife. Tip: hold the torch against your face so that you can see animals' eye-shine reflected back at you.
Try one of the Wild Families Activity Sheets put together by the Victorian National Parks Association.
If it's not too far or expensive, a trip to the snow can be great fun for snow play or tobogganing.
If you have any other ideas, or if you would like to send in photos of yourself or your child being active in nature this winter, please email us at: livinglinks@ppwcma.vic.gov.au
Content adapted with thanks from an original article by the Raising Children Network.