19 August 2020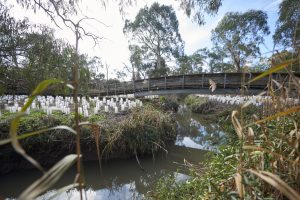 Together with our six partner councils (Maroondah, Knox, Whitehorse, Monash, Greater Dandenong and Casey), Parks Victoria and Melbourne Water, we've been working to transform the Dandenong Creek corridor into a world-class urban Living Link over the past four years. This has involved restoring habitat for wildlife in this important corridor, as well as making it a more beautiful place for people to enjoy.
The project was due to wind up in June 2020, but due to the coronavirus (COVID-19) situation, has now been extended until December 2020. The vast majority of works are already complete, including environmental works at 37 out of 38 priority sites, and 90 community events that have involved more than 5,500 participants so far.
In 19/20, we achieved a total of 15.6 hectares of revegetation and 14.1 hectares of new (and 70.24 ha ongoing) weed control, as well as 2 ha litter removal. 18 nesting hollows installed in previous years were also monitored. We also ran a 33 commuity events, including 15 site preparation/planting days, 2 litter clean-up events, 8 sessions of Wayapa in the Park and 6 other educational events, including the Wild Pollinator Discovery Day. In total, these events engaged 2083 participants, providing 3517.5 volunteer hours. In addition, 27 citizen science surveys were completed throughout the year, comprising 25 frog surveys and 2 bird surveys. Another key achievement in 2019-20 was the completion of the 'Spreading the Message' art project by Indigenous artist Ian Harrison. With these achievements, we have now substantially exceeded all of the original project targets.
The next few months will see the delivery of some exciting final activities for the project. We will deliver the Wild by Nature Film Festival with our partners at Remember the Wild, an online forum on using Indigenous burning practices in urban areas in partnership with Trust for Nature, and a documentary on the eels of the Dandenong Creek with the First Friends of Dandenong Creek and Remeber the Wild. We are also supporting the Bunurong Land Council Aboriginal Corporation to undertake a cultural activity to create a 'Message Tree' (like a scar tree).
We would like to thank all of our wonderful delivery partners for their fantastic work so far, the community for their enthusiastic involvement, and the Victorian Government for funding this $1M project through their Our Catchments, Our Communities initiative.
Learn more about the Transforming the Dandenong Creek project.